The righteous care about justice for the poor, but the wicked have no such concern.  ~Proverbs 29:7
Learn to do right! Seek justice, encourage the oppressed. Defend the cause of the fatherless, plead the case of the widow. ~Isaiah 1:17
The number 1 trending topic on the social media Twitter today has been #Gosnell. By now I hope you are familiar with this tragic and horrific case , if you haven't heard about Kermit Gosnell, you can certainly place some blame on the mainstream media.  It seems mainstream media has done all it can to stay away from this story. Gosnell  is a doctor in Pennsylvania that went on trial starting March 18  for 7 counts of first degree murder for killing newborn babies delivered during abortions. Gosnell has also been charged with one count of third degree murder for the overdose death of his abortion patient. If convicted, Gosnell could face the death penalty.
Thankfully, many who care about not only pro-life causes, but also on media reporting a riveting national news case, took to the social media world to help turn the media's silence around on this. Patricia Heaton  and Eric Metaxes have been amongst the longest and most consistently vocal about the lack of media coverage through their social media influence. This led to a column yesterday by Kristen Powers that appeared in USA TODAY titled:  We've Forgotten What Belongs on Page One. In essence this ended the in part the mainstream media blackout and began a frenzy of activity primarily in the social media world calling for coverage of the Gosnell murder trial. The Pennsylvania Family Institute released the infographic below to help with the numbers of this horrific case.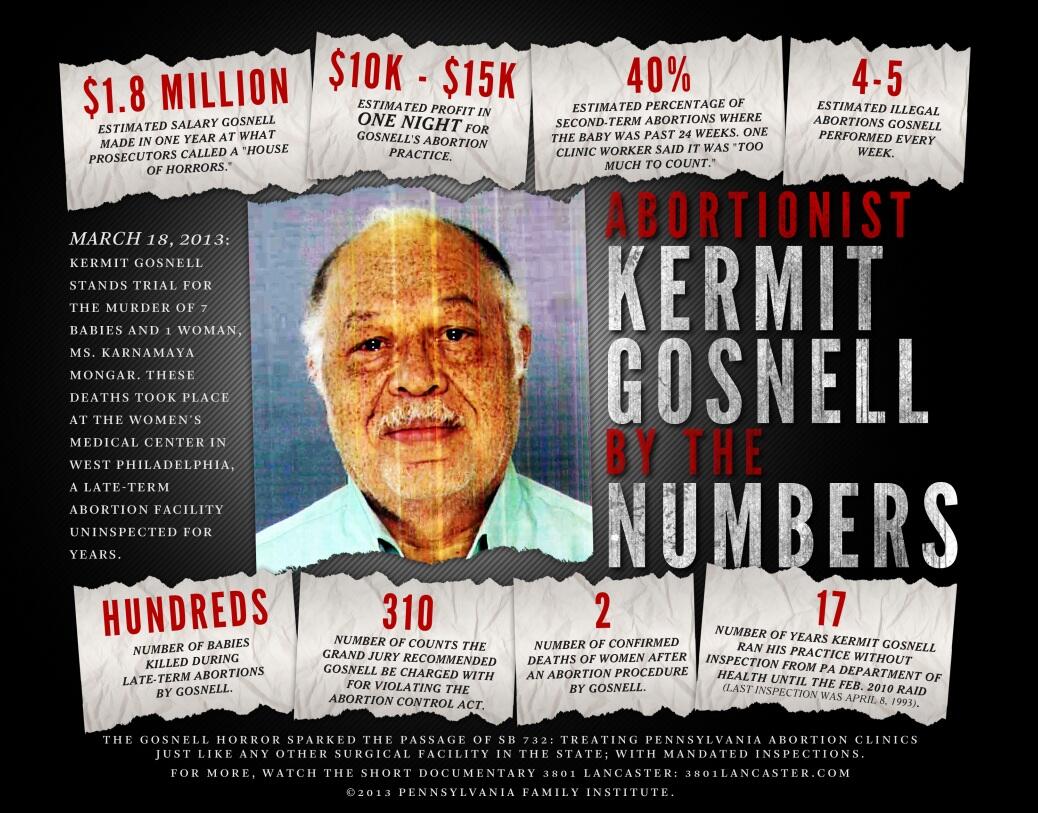 We should be outraged first by this tragedy that has ended so many lives. We should also be both sad and mad that we haven't heard more about this in mainstream media. Consider participating at help end the media blackout by the reading through the links provided by at HERE I BLOG and  Downshore Drift.  Conor Friedersdorf piece in the Atlantic walks through the details (caution, includes graphic details) of the story and why it should be on the front page. The internet is now (thankfully) flooded with articles on the Gosnell case and the lack of media coverage. I do not want to overload you with all the links so maybe I will return and update this post with more links below. Be sure to check Russ Moore's article Kermit Gosnell and the Gospel. If you want to check the official legal side of this case BuzzFeed's article.
Be informed, be saddened, but please take action, and pray for justice and that God will use this horrific tragedy to open blind eyes to the horror of abortion.
UPDATE: Tons of links and articles yesterday (4/12/13) exploded across the internet on the Gosnell story and the lack of mainstream  media coverage. We should be grateful that some media leaders are beginning to acknowledge their failure to cover this horrific story (The Washington Post's Executive Editor admitted they should have dedicated a reporter to it and is now assigning one). Hats off  to Jake Tapper and Anderson Cooper as they dedicated significant time on the Gosnell story on each of their CNN shows last night. Anderson Cooper featured the writer and director of the documentary  "3801 Lancaster" on his show. This documentary (titled after the address of Gosnell's clinic) is just 20 minutes and showcases the unfortunate tragic testimonies of the clinic's patients along with footage of the FBI's case as they raided the clinic in 2010. Take time to watch it below (it plans to be updated as the Gosnell case proceeds).  As this story should greatly grieve us I encourage you to look through a previous post I wrote to coincide with the anniversary of Roe vs. Wade as it concludes with some action steps followers of Christ should take.
'Cursed be anyone who perverts the justice due to the sojourner, the fatherless, and the widow.' And all the people shall say, 'Amen.'  ~Deuteronomy 27:19